Regular price
$3,484.13 CAD
Regular price
Sale price
$3,484.13 CAD
Unit price
per
Sale
Sold out
2-½ years in development with every detail carefully considered and meticulously executed, the TOA is the culmination of all the CHAPTER2 frames that have come before it. TOA which means "to be victorious, win" in Maori delivers an all-out, no-compromise carbon fibre race-ready frame platform designed, engineered, and manufactured to the most exacting standards.
Inspired by the TERE's Performance All-Road DNA and the AO's versatility, the TOA has all its cables/hoses tucked away from sight and the wind, creating an aerodynamically seamless transition between the MANA Bar and the TOA's Kamm-Tail chassis.
Sporting a T47 Bottom Bracket for easy maintenance, the aluminium BB Shell works in unison with the high-tensile carbon carefully laid into the BB area to increase stiffness by up to 7.3% over the TERE. Additionally, the use of a Latex mandrel for the whole front triangle has increased the Headtube stiffness by 23.5% over the TERE for that out of the saddle and power to the pedals moment.
Other enhancements such as the bundled MANA Bar, Quick-Fit headset spacers, up to 32mm of tire clearance, vibration dampening Seatstays and Seatpost makes for a package that ticks all the right boxes.
Features: 
Carbon:
100% Made in Japan by Toray
Frame 6 Sizes:
XXS, XS, S, M, L & XL
Fork Rakes (2):
XXS, XS, S (53mm offset) and M, L, XL (43mm offset)
Frame Weight:
1,099g (Disc) Size M +/- 3%
Fork Weight:
419g (Disc) Uncut +/- 3%
Seatpost Weight:
135g Size M +/- 3%
Handlebar/Stem (MANA):
395g (100-420mm) +/- 3%
Headset:
1.5" C2 Integrated System
Gear Shifting Type:
Mechanical & Electric Shifting
Electronic Shifting:
SHIMANO® Di2, SRAM® eTAP & Campagnolo® EPS compatible
Battery Type:
Di2 SM-BTR-2 or BT-DN300 and EPS V3 Battery Compatible
Tire Clearance:
30mm (ISO) & 32mm Practical
Brake Type:
Disc Only
Bottom Bracket:
Internal T47
Thru-Axle:
Flat Mount FR 12x100mm, RR 12x142mm, E-Thru M12x1.5mm
Safety Standard:
EN ISO 4210:2014
UCI Accreditation:
UCI Approved
FRAME GEOMETRY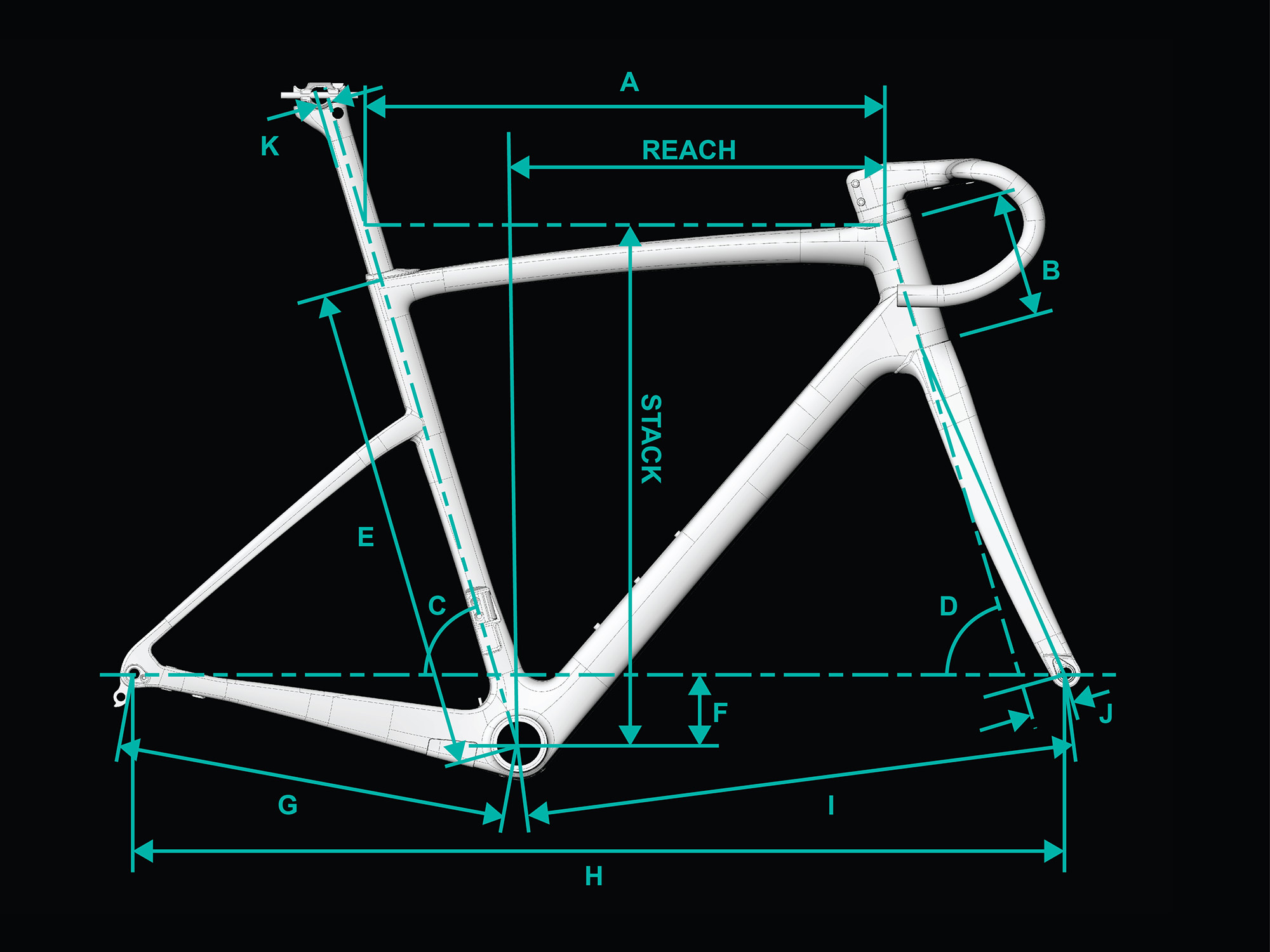 Note:
All dimensions are in mm unless otherwise noted
| TOA | XXS | XS | S | M | L | XL |
| --- | --- | --- | --- | --- | --- | --- |
| Stack | 468 | 502 | 527 | 552 | 577 | 602 |
| Reach | 357 | 363 | 372 | 381 | 390 | 399 |
| A. Top Tube | 482 | 509 | 525 | 542 | 558 | 575 |
| B. Head Tube | 72 | 95 | 115 | 135 | 160 | 186 |
| C. Seat Tube Angle | 75° | 74° | 74° | 74° | 74° | 74° |
| D. Head Tube Angle | 70° | 70° | 72° | 73° | 73° | 73° |
| E. Seat Tube | 435 | 458 | 483 | 508 | 533 | 560 |
| F. BB Drop | 73 | 73 | 73 | 73 | 73 | 73 |
| G. Rear Centre | 408 | 408 | 408 | 408 | 408 | 408 |
| H. Wheelbase | 959 | 973 | 975 | 973 | 986 | 1002 |
| I. Front Centre | 562 | 576 | 578 | 576 | 589 | 605 |
| J. Fork Offset | 53 | 53 | 53 | 43 | 43 | 43 |
| K. Seatpost Setback | 10 | 10 | 10 | 10 | 10 | 10 |
| Stem | NA | NA | NA | NA | NA | NA |
| Stand over | 715 | 735 | 760 | 786 | 811 | 837 |
| Rider Height | <165 | 160-170 | 165-175 | 170-180 | 175-185 | >180 |
| Max. Tire Size | 32 | 32 | 32 | 32 | 32 | 32 |
| Rear Caliper Mount | 25 | 25 | 25 | 25 | 25 | 25 |
MANA HANDLEBAR

Note:
All dimensions are in mm unless otherwise noted
| SIZE | 80x380 | 90x391 | 100x402 | 110x413 | 120x424 | 130x435 |
| --- | --- | --- | --- | --- | --- | --- |
| A. Stem | 80 | 90 | 100 | 110 | 120 | 130 |
| B. Width at Drops | 380 | 391 | 402 | 413 | 424 | 435 |
| C. Width at Hoods | 360 | 371 | 382 | 393 | 404 | 415 |
| D. Reach | 70 | 70 | 70 | 70 | 70 | 70 |
| E. Drop | 128 | 128 | 128 | 128 | 128 | 128 |
| F. Stem Angle | 7.0° | 7.0° | 7.0° | 7.0° | 7.0° | 7.0° |
Share
View full details